This page is under construction. Some of the audio and video links may not work.
Joe Giardella's Music Repository
---
This is a chronicle of my recorded music collection. I have been recording songs, rehearsals and jams since the early 1980's and have collected hundreds of recordings. The newest stuff is on the top and it gets older as you scroll down. When listening to the early recordings (near the bottom of the page), remember... we all had to start somewhere.

If you do not see the song list, you may need to install Adobe Flash Player plug-in.
Click here to install.
in 2017, I practiced playing Jazz on the drums to various play-along tracks.
I would record the practices and these are some of the better (but far from perfect) takes. As a rock drummer, Jazz is difficult for me to play. Hence... these practice sessions.
On 02/16/2017, I jammed with Rob, Scott & Todd. The very last song was an impromptu jam that Todd started.
- 2017-02-16_Rob-Scott-Todd_Jam-04-MIUAYGO_v1c
In 2016, Paul Mancuso and I collaborated on some songs over the internet. Free time to get together and record songs is a rare commodity. So, Paul setup his older guitar interface to his PC and recorded riffs and ideas and posted them to a shared cloud drive. He numbered the ideas sequentially and I kept these numbers in the song titles. I would select and sometimes combine his ideas/riffs into songs. We worked together sporadically and remotely for most of the year. By the end of the year, we had a bunch of completed songs. I took the better songs and compiled a CD complete with artwork. It is titled
"Audio Short Shorts, Volume 1"
. The songs are all instrumental and can work well when paired with the right kind of Video. These are audio shorts that can be used for video shorts... hence the title. Below is an animated GIF of the cover.
At the end of 2016 I wrote another song that ultimately became a Christmas song for the
"Giardella Christmas"
album. But the song and the album are still not complete.
In 2015, I wrote three original songs and after much indecision and insecurity, I attempted to sing them myself. My first attempt at recording a vocal occurred during the 2007 Christmas sessions. I was so bad... I thought I would never attempt another vocal again. It was only after some failed attempts to get others to sing these songs did I consider another attempt at singing. I first tried recording some scratch vocals so the real singer would have an idea of the rhythm and melody. These scratch vocals grew and grew into the semi-passable versions I have now.

I also worked on the song "O Holy Night" for the "Giardella Christmas" album. I found an acapella version on Youtube and used as the vocal for my track.

January 12, 2014: I recorded my Dad playing my drums. He has not played in a few years and I put him on the spot. He had trouble with the rim shots in the beginning because of the older Gretsch snare he was using has higher than normal rims. But he got thru it rather well.
December 31, 2014: On the last day of 2014, I recorded myself practicing the
Tommy Igoe Songo Beat play along
. I was practicing it for a while the correct way when I decided to just let loose. It's not perfect, but it is fun to play.
- FG42 Fast Songo Practice
July 17th, 2013: Here's a clip from a practice for the 2013 Midsummer Night's Jam with Jim Zampetti and Mortal Mammals. Jim is singing and playing guitar, Craig Heitsner on drums and I'm on bass. I added some B3 afterwards just for fun.
January 18th, 2013: Just like old times… Paul, Poss and I engage in a long impromptu jam of a song we never played before. Again, I added some B3 afterwards just for fun.
FINKSTOCK
September 30th, 2012: The unrehearsed yearly jam of musician friends/colleagues of Dennis Fink. Home-made beer, swimming pool, BBQ, open jam and the Dead Pallet Society, this party has it all. Dennis on bass, Steve on keys, Jake (singing) and Rich on guitar. I forget if anybody else was sitting in on this one. BTW… that's Rich's guitar howlin' at the end.
The picture to the right is from 2005.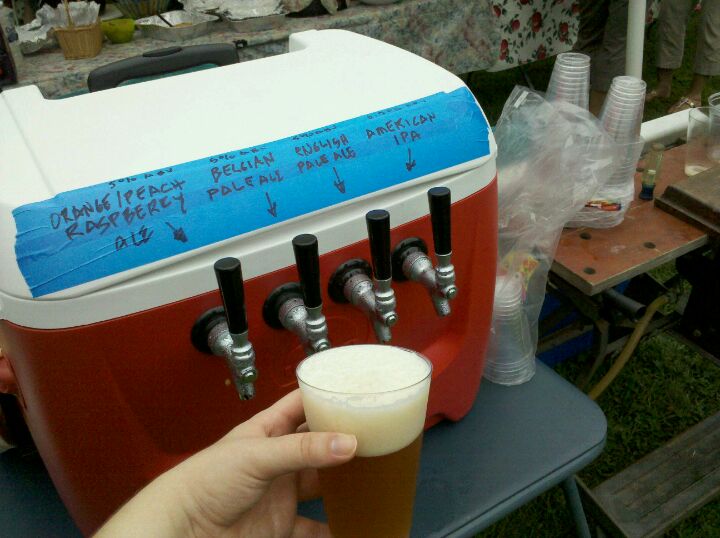 On July 13th, 2011, I recorded a practice with
The Blend
. I filled in for their regular drummer for a one set show at the Harworth's
Midsummer Nights Jam 2011
. This is a cover of
Grace Potter & The Nocturnals
song called
Paris
.
On October 29th, 2010, I recorded Jack Quigley's guitar tracks of a song he wrote way back in the 1980's (can you tell). Since then I added bass and drums.
On October 30th, 2009 I Jammed with Rob and Andrew. I have not played with these guys in over 16 years. This is the second or third song we played. We recorded this live and I added some keys (B3) and merged the slow and fast parts together.
Scroll down near the bottom of this page to hear us play this song over 25 years ago!
In 2008, I attempted my first symphony. Sometime in '07 or '08, I revisited a song I wrote around 1991-2. I wanted to redo it using orchestral instruments. I worked on it for a while and learned more about my new setup. Once it was complete, I decided to write three more pieces to complete a Symphony.
Grassetto in C Major
Movement I
- The opening section is based on something I had written in 1992.
Movement II
- Bolder - I originally wrote this in 1991 and revisited it in 2007. It is the first piece I completed in the set.
Movement III
- This piece is based on a cross of the first two movements. It is a simple progression in 3/4 time.
Movement IV
- This piece has elements of all three movements with some new stuff as well. The opening section is a slightly modified rendition of movement 1.
Christmas CD 2007
Lily DiMartino
Piano
Lee Giardella
Vibes
Linda Giardella
Vocals
Joe Giardella (my cousin)
Guitar and vocals

others pending
In 2007, I recorded a family Christmas album. My Dad and cousins selected and performed a few songs. Although the project is not completely finished, each year I hope to add to or complete some of it. I will have more on this later.
My father decided to play
"Have Yourself a Merry Little Christmas"
on the vibes. I gave him a copy of the song and the sheet music and told him to practice. Of course... when it was time to record his part, he reluctantly admitted that he had not practiced. So, he practiced for about 30 minutes before we recorded it. He totally winged it!... and nailed it too!
I got a new recording setup in early in 2007. I recorded this song as an exercise in using the new gear. It features a few famous Philbert clips.
I then recorded this song which is modeled after
Rush
. In fact, the working name of the song was
Hurry
. The song is about a typical workday. It starts off mellow and quiet and slowly builds into a frustrating mess. Then 5PM comes, the whistle blows and there is little relief. The night come and mellows out the mood... only to start again the next morning.
The LoveCats - 1995
| | |
| --- | --- |
| Paul Mancuso | Guitar - Vocals |
| Joe Possavino | Bass - Vocals |
| Chris Longo | Tenor Sax - Vocals |
| Joe Giardella | Drums |
Occasional guests included:
| | |
| --- | --- |
| Jay Krantz | Alto Sax |
| Mark Fiorentino | Drums - Percussion - Vocals |
| Scott Brown | Bass |
I think it was around 1995 when I started jamming with Paul, Scott and Poss on guitar. These tracks are from the first or second session. They are not very good... but it is fun to hear them again since we do not really play them any more.
- Draw the Line
- DOA
- If You Want Blood
- Night Prowler
- Sympathy for the Devil
Soon after Scott left and Poss picked up the bass. Then Chris would jam on occasion. We would jam at my mother's basement and would usually end up hanging out and listening to music. People would come and go; Greg on bass, Mark F on vocals and drums, Scott on bass, sometimes Poss would play guitar.
I remember jamming at Paul's house one day. He had Mark's huge drums setup in the basement of this house he was renting. There was another couple there hanging out watching and listening to us. It was just Poss, Paul and I. We were tight. It was one of those jams where we hadn't played for a while and we were content with keeping it simple and just focused on the groove. It sounded really cool. Too bad I did not have a recorder that day!
I have a huge inventory of recordings from this era. I had the basement (at my mothers house) setup to record our jams. Everyone would come over and the tape would roll. Sometimes, we would get a decent cut of a song but mostly… not. If we did, it was typically the first or second take. After that it got stale. We only had one gig in Staten Island. Other than that, we jammed in the basement. We had various names; School Glue, Rubber Elvis, Urban Lunch-meat and finally The LoveCats which was the name of their previous band. for more info, click
Mark II
or to hear some tracks, click
Samples
.
I soon bought a house and the jamming briefly moved there before fizzling out completely. We took a about a 4 year break before getting back together. Paul found this guy, Ray, on some web site and brought him over to jam. He figured this would get us going again. We only jammed about a 2 times and it fizzled out again. This is the first song we played with Ray (on guitar); it's a blues improv jam.
Then Paul invited me over to jam with these other guys he found on the web. They jammed in Haverstraw, NY at Joe Gu's house. We jammed a few times and that fizzled out too. But then Paul invited Joe Gu. (on keys), to play with us as the LoveCats. Click
About the Band
for the current incarnation of the LoveCats. Click
Videos
to see a short video clip.
Around 1996, I started jamming with this guy from the deli, Roland. He played guitar and sang. Scott and Philbert were also there. We jammed and made Philbert sing to get some laughs. Some of these tracks are gems. I recorded a few songs for Roland and that was basically it.
Speaking of which… I am not sure when, probably around 1990, I did this song for Philbert with him singing. We used to play it at the deli all the time.
From the deli, I also met this guy Duke. His father owned a business nearby and he and Duke often came in for lunch. We recorded some songs, most of them were depressing and mellow. Here is one that Duke remarked was "
the most upbeat song I ever did
". He wrote it and played guitar.
Slightly Damaged - 1995
Around 1995, I did a short stint with Slightly Damaged, who were a heavy rock band doing all originals. The singer from the other band below, Joe, recruited me because they needed a drummer. We practiced 8 original songs for months before going into the studio. The studio was in Wayne and we cut most of the parts in two days. The guy at the studio, Dave, was pretty cool and it was a lot of fun.
- Lifeless (Remastered)
- Welcome to my Mind (Remastered)
I remember on the way to the studio, Joe and I got into a fender bender, I hit the car in front of me trying to pull into traffic. I thought the bastard went but he stopped at the last second. We were a little late but we made it.
Another time I remember we were playing
Love - Sexy
in Hoboken. It was the coldest night of the year. I had Philbert with me to help me lug gear. I made him wait outside by the truck while I was inside having a beer. He was pissed! Once we unloaded, I had to park the truck about 8 blocks away. By the time we walked back to the club, we were almost frozen!
Around 1994, I did sound for a friend's band that played local clubs. I forget their name but they were pretty good. We played Hoboken, South Orange, Perth Amboy and other places. I usually brought speakers on sticks and rarely brought subs. This lasted a little over a year.
I remember setting up in this dive in Sayreville, NJ. The stage was all wet and not very sturdy. The carpeting around the stage was also wet. When I inquired about the soaked stage, I found out that there was a fire in the apartment above the stage!
I then played with Scott and Keith for a few months. We did a couple gigs and we were done.
Dr. Smoke - 1990
| | |
| --- | --- |
| Rob Subrizi | Guitar |
| Scott Brown | Bass |
| Joe Giardella | Drums |
| Derrick Chaplain | Guitar |
| John Dalton | Vocals |
The next phase lasted about 5 years and eventually turned into Dr. Smoke and the Basement Band. We started as
Scoboe
and quickly moved on because we needed a singer!
- Headin out to the Highway.
I think we then started jamming with Crossfire minus Mark and Pat. Derrick would come to the jams and eventually joined on as rhythm guitar.
John left to pursue marriage and Steve joined on as lead singer. John and I recorded this song he wrote for his (then) fiance:
---
| | |
| --- | --- |
| Rob Subrizi | Guitar |
| Scott Brown | Bass |
| Joe Giardella | Drums |
| Derrick Chaplain | Guitar |
| Steve Foster | Vocals |
We played out a lot mostly in local bars such as; Murphy's Law (Johnny A's Rockin Sports Club), Henley's Bar and Grill, Vinnie O's, and a few others. We even ventured to Nardi's on LBI.
Here are some recording from jams around 1990-91.
- Back in the USSR.
- Hard to Handle
- Jealous Again
- Long Train Runnin
- You May Be Right
I happened to record one show at Henley's in '92. The chef, Frank, played a mean harp and joined us for a few songs. Also, Rita's brother was there visiting a friend and bought the band a round of drinks and asked us to play Wipe-Out.
- Wipe Out.
- I Feel Good.
- Treat Her Like A Lady.
- Hold On Loosely.
Someone (I forget who) video taped a show on January 9, 1993 at A's Rockin' Sports Club. This clip is about an hour and a half long, so dig in!
Paul filled in for Rob and we proceeded with Paul whom I met at college. He overheard me talking about a gig during electronics lab. We soon jammed and were playing out as Dr. Smoke again.
We played this really cool gig in Tappan NY. It was near a few colleges and it was finals week. There were a lot of drunken chic's dancing and flopping around. One chic fell on our stage monitor. I remember Poss came up and played bass on a song with us. It was some SRV song but I can't remember which one.
| | |
| --- | --- |
| Paul Mancuso | Guitar |
| Scott Brown | Bass |
| Joe Giardella | Drums |
| Derrick Chaplain | Guitar |
| Vic Liggio | Acoustic & vocals |
| Steve Foster | Vocals |
| Some guy? | Tenor Sax |
Vic and a sax player (who's name escapes me) joined the band and we played for about 6 - 9 months. This recording is from
J.Mallory's
in 1994. It was recorded from a live feed off the board.
Besides playing the trumpet in the concert band, In 1988, I played drums in the Jazz band in high school. We had about a dozen horns and played contemporary songs. Rob Played guitar and Phil played bass and Mr. Bender, our teacher, played guitar on one song. We stole the concert tape from the library. After watching it... we should have burned it!


Darious-Domer Era - 1988
| | |
| --- | --- |
| Darious | Guitar |
| Rob Subrizi | Guitar |
| Greg Roth | Bass |
| Joe Giardella | Drums |
| Derrick Chaplain | Guitar |
| Scott Brown | Bass |
| Craig Connely | Vocals |
| Mike Flemming | Guitar |
I started jamming with Darious, Greg and Rob around this time. Darious was a great guitar player and was going to William Paterson for music. He could play and sing. I learned a lot jamming with this crew.
Darious could talk. Sometimes the words would not come out fast enough. He would ramble on and on…
- Darious forges a song (Greg on bass).
- Darious on life.
These tracks are first takes, possibly even the only take!
- T-Bone Shuffle (Greg on bass) - After this song was over, Darious turned to me and said "Don't you know how to play a Texas Shuffle?". Well... I soon learned!
- Don't Cut Me Down
- I Got By
- Superstitious
On November 14, 1990, we played a Battle of the Bands at St. Thomas Aquinas College where I was going at the time. We did not really have a band but rather a group of friends that played a few songs. We had 6 guys, Rob, Scott, Domer, myself, Darious and Mike. We did rather well and my college buddy recorded it on video tape.
During this time, I borrowed a Tascam Porta Studio 05 and tried recording some tunes. They were mostly exercises in recording but below is my favorite one in the Rush time signature of 7/8.
Crossfire - 1986
| | |
| --- | --- |
| Mark Jensen | Guitar |
| Rob Subrizi | Guitar |
| Pat Rielly | Guitar |
| Scott Brown | Bass |
| Joe Giardella | Drums |
| John Dalton | Vocals |
In 1986, Rob and I joined Crossfire. I replaced their drummer which did not go smoothly. I had to sneak in for practices so not to be seen. Eventually, everything mellowed out and I moved my drums to Scott's basement where we practiced.
Jamming there was cool. It was like a party. There was a pool table, beer, food, music and lots of people. We practiced a lot and played out in local bars. It was my first real experience playing in front of a live audience (other than High School). I remember playing Sympathy for the Devil at
City Light
on route 46 and when the song ended, the crowd went nuts! I remember looking up and seeing everyone cheering us on!
Another memorable gig was when we played Realmontes bar in Paterson. It used to be a strip joint and much of the former staff stayed. Needless to say… the bartender was a bleached blond with a bulge… The place was almost empty accept for a few of Scott's friends. There was this one guy dancing directly in front of Mark. He was doing a personal show for him and was getting closer and closer to him. Finally, Mark beaned him in the head with his guitar to back him off and send him a message that he was not interested.
Even though Rob and I were under age (16-17), only one bar ever gave us trouble; Susie's Lobster. This issue was soon resolved when the owner realized that our parents were there. Another cool thing about this gig was that we had a roadie. He was a drummer too (and a good one at that) and he setup my drums and most of the gear.
We cut a demo tape at some nearby studio which was really cool. It was the real deal with a 16 track 1"reel machine. We cut 5 songs including three originals. This experience peaked my interest in recording and music technology. Here are the three originals from the demo.
- Black n Blue.
- Fashion Fag.
- Fool for the Jewels.
Marshall Law - 1984
| | |
| --- | --- |
| Mark Jensen | Guitar |
| Rob Subrizi | Guitar |
| Scott Brown | Bass |
| Joe Giardella | Drums |
This is probably around 1984. Mark and Scott worked together at Washington School in New Milford. Mark played guitar and Scott was interested in learning to play guitar and bass. Mark, Scott, Rob, and I would jam while my father would show Scott a few things on the bass. My father only attended the first few jam sessions but it turned into a weekly event. We would jam for hours while only playing 4 or 5 songs. IT WAS LOUD TOO! I remember playing songs as loud as I could… just because I could. Ahhh… the good ol' days!
- Dad's Lesson and Advice
- Mark, My Dad and I playing Money.
No one really sang, but that was OK because we did not have a PA or anything to sing through. When somebody would sing, it was usually only to keep us in sync with the song. In every song, we would each have a turn to solo. Then we would take another turn… and another… Songs went on and on, even after they supposedly ended. We called ourselves; Marshall Law. Because Mark's Marshall amp was so friggin' loud!
- Sin City.
- Europa.
- Runnin with the Devil by Van Halen.
- Eruption by Van Halen.
- You Really Got Me by Van Halen.
- On Fire by Van Halen.
One day, Mark and I recoded a song we wrote. We had the cheapest cassette four track you could buy and a couple of really crappy mic's.
---
Sometime in 1985 (I think), we played a gig at the Bergen County Convalescent Center in Paramus, NJ. Mark was working there part time and asked if we would play a few songs for a party. We learned and practiced a few standards that we thought would be suitable. No… not Judas Priest… but After the Loving, For You. I'm In the Mood for Love and other songs.
- I'm in the Mood For Love.

The night was full of excitement, starting with some panic! It seems that one of the guests, who was over 90 years old, drove himself to the party. Well… he hadn't driven a car for about 15 years and when he arrived, he and his car were pretty banged-up!
There were two bands to play that night, us and another group of old guys. We played first and it went rather well. I forget her name, but the master of ceremonies was a very good singer and piano player. She played many times with Les Paul and other famous people. She joined in on a few songs and it was fun.
The next band was setting-up when the drummer collapsed and passed out falling onto his drum set. He banged his head and was bleeding, so they sent him off in an ambulance to the hospital. The band leader came to me and asked if I could sit in. I declined… as I was not well versed in their genre of music... Well... that's what I told them anyway...
Reminiscing with Rob many, many years later, he reminded me that their was a women music director of the facility. She played piano and sang rather well. I forget if she performed with us, but, she was none other than the great
Mary Ford
. In all, it was a memorable show. This and the gig at the Bleshman School were the only real gigs we played.
Rob-Joe-Ivan - 1983
| | |
| --- | --- |
| Ivan Khatchoyan | Drums |
| Rob Subrizi | Guitar |
| Joe Giardella | Bass |
This was around the same time as Quest. We did not have a name and only jammed a few times in my basement. We thought we were so good...
- Looks that Kill, Shout at the Devil, and an original
Quest - 1982
| | |
| --- | --- |
| Marc Jimenez | Drums |
| Rob Subrizi | Guitar |
| Joe Giardella | Bass |
Hmmm… I think this is around 1982. It was our first band. We were called "Quest". Marc had just gotten a brand new Ludwig drum set for Christmas so we jammed in his basement where they were setup. His father made him a really cool drum riser and his mom got us shirts with some kind of monster and "Quest" written on the front. We thought we were so cool.
We borrowed a friends Moog synth and recorded this song. I do not remember if it had a name or lyrics, but we practiced it a lot. We had a lot of fun. I remember dragging my fathers Fender head and speaker cabinet to Marc's house in my wagon (not as in station but as in little red).